We are looking for a general manager for the Zazamalala reforestation project near Morondava in West Madagascar. In cooperation with the founder of this privately owned nature reserve, Dr. Simon Rietveld, you will be restoring the wilderness, breed and protect highly endangered wildlife and support the social development of the local population.
This is a challenging and possibly life changing position. One that will give tremendous satisfaction as you will witness how barren land is transformed into lush forests, where highly endangered wildlife will again flourish and you can help develop a local population that over time has come to love both the forest and the project.
We have the ambition and the financial possibilities to greatly expand the Zazamalala forest in the next 3-7 years. This ambition requires a greater operational team so we are looking for a experienced and enthousiastic manager to work with Dr. Simon Rietveld.
As General Manager you will basically run the Zazamalala project on a day to day basis. From helping Mr. Rietveld acquiring new barren land to making sure that the reforestation, including the maintenance of the newly planted trees, is done according to the method developed
and making sure that the results are reported as required. You will have 3-5 direct reports to help you run the project:
at first two forestation managers, one nursery manager and an administrative support person. Depending on the season, there will be between 25-150 people working in the forest and the nursery.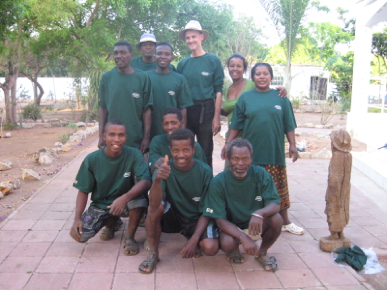 You must have a love for nature! And wholeheartedly understand that involving the local population is crucial to the succes of the project. This is not a typical 'office-job', you will be required to maintain first hand understanding of all developments in the forest.
It is not essential that you know about reforestation (it would be a very big plus of course) because you will have two reforestation managers to take care of that. But you must be willing and able to learn.
It is important that you are experienced in running an organisation with 25-150 people of all sorts of levels (most people at Zazamalala are not educated above primary school).
You have proven that you are stress proof. A project like this will always have surprises, setbacks and unexpected situations. We expect you to remain clear and focused at all times. All our people will look at you to show leadership. You must be and act like a good Zazamalala ambassador at al times.
You are a manager that is able to switch between being gentle, friendly and community focused to manage with authority depending on the situation. But always acutely aware of the moral standards in how we work together that we must hold high.
Cross-cultural sensitivity comes naturally to you.
Next to a good command of French and some English it would be greatly beneficial if you speak Malgash.
We expect you to have proficiency in computer software like Office and Project management software.
Hiring and managing staff (both in the nursery and in the forest). Supporting their development, implementing regular reviews and evaluations.
Act as a role model in your professionally and personal conduct towards all employees and local population.
Defining and managing the goals and objectives your staff and workers have to realise.
Purchasing of materials and goods needed, including monitoring maintenance and making sure materials are always in proper working conditions.
Supervising administrative tasks and reporting of the progress and setbacks to the foundation that funds the project.
Be the 'right hand' of Mr. Rietveld when he is in Madagascar.
Be the first line of contact for Mr. Rietveld when he is back in Amsterdam and reporting on the progress.
Maintain very good relations with the local population and government.
Making sure that all phases of the project are well documented, both written and visually.
Possibly developing tourist infrastructure above and beyond what we already have.
A life changing position where your efforts will change a lot of lives for the better.
A small and informal privately funded organisation entirely focussed on the project.
No frills, no bullshit, no politics. Just wanting to do as much as possible in a lifetime.
Working with one of the most inspiring persons that you will ever meet; Dr. Simon Rietveld, and our Dutch donating organisation: Trees for All.
You will be paid by our local organisation; the Zaza Be foundation. The contract will be for one year, to be extended to a three year contract after a 6 month trial period.
You will not be required to write grants or papers that have no direct bearing on the development of Zazamalala.
Salary will be discussed based on experience and qualifications.
We can provide help with relocation if needed.
What you will want out of it:
You want to work for something good, while earning a good salary.
Learning and living the experience of fighting the results of climate change and deforestation.
Connecting with likeminded inspired people from all over the world. Dr. Rietveld has a very large network in the whole world of forest specialist and lovers of nature.
The possibility to learn. As a leader, as a nature conservationist and as a person.
Only 3% remained of the lush endemic forests of Madagascar, when 20 years ago, Mr. Simon Rietveld decided to do something about this threat to the country he has been coming too since he was a teenager.
In the last 20 years he and his wife not only succeeded in recreating 150 Ha of endemic wilderness and saving and breeding some highly endangered species in it, but he also developed a holistic approach to reforestation. One that has proven to be successful despite tremendous odds. The major reason for this is that they treated community development as a prime issue. This means giving as many local people as possible paid work in the forest and thereby making them economically independent. It also implies education about issues such as nature conservation, climate change, health care. Moreover, it emphasises education on local schools, which means supporting these schools with money and materials as well as repairing the buildings. Finally, but very important, it means providing solar cookers to local mothers and thereby making them independent of fuelwood from the forest.
This holistic approach conforms to the 2015 Sustainable Development Goals of the United Nations. Zazamalala is located approx 30km east of Morondava right on the national A34 highway.
If you are interested, please first check our website: www.zazamalala.org. Then write out a motivational letter including your CV. Some references would be greatly appreciated. We will then contact you as soon as possible to discuss. It is quite possible that the first meeting will be via the internet.
You can download a PDF version of this vacancy here.